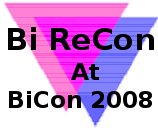 Home
News
Website Updates
Venue
Venue Accessibility
Volunteering at BiCon
Registration
Helping Hand Fund
Bi ReCon
Travel to BiCon
Workshops
Family Fun Day
Entertainments
Organising Team
FAQ
Information
Downloads
Links



Bi ReCon at BiCon 2008: 28th August 2008
Bi ReCon is a one day event of day of workshops, presentations, research seminars and activities organised by BiUK and the BiCon 2008 organising team.
The aim of Bi ReCon is to build bridges between organisations, researchers and bisexual communities by connecting Bi ReCon to the beginning of BiCon 2008 at Leicester University's Oadby campus.
Full BiCon registration provides access to Bi ReCon for FREE!
To register for Bi ReCon, download a Bi ReCon registration form, fill it out and return it to Meg Barker.
To register for the full BiCon weekend which includes free access to Bi ReCon please go to the BiCon 2008 Registration page.
During Bi ReCon
There will be opportunities to:
Find out about key issues affecting bi people in the UK today
Present your organisation's position on bisexual matters and work with bi people
Engage in a dialogue between the bi community and major UK organisations and groups
Take part in workshops on specific issues (mental health, bi identity & relationships, equality & diversity policy)
Hear about cutting edge research on bisexuality in the UK
Bi ReCon Provisional Programme of events
Last updated 13th July 2008



Morning: (10:30–13:30) - Building Bridges



10:30–11:00
Registration and Coffee
11:00–11:30
Welcome and overview of bi needs
11:30–12:30
Organisations present how they work with bi people – 5 minutes each:

Equality and Human Rights Group, Department of Health – Rebecca Lloyd
Amnesty – Presenter to be confirmed
Lesbian & Gay Foundation – Samantha Days
Stonewall – Ruth Hunt, Head of Policy
Polari – Lindsay Rivers
Mind – Christina or Mind rep
Met Police – Janella McCrea
UNISON – Kevin George, Susan Mawhood, Richard Lohman
NUS – Katie (or Katie's contact)
The Danish LGBT Union – Miguel Obradors
Bi men's groups – Edward Seeker

12:30–13:15
Break-out groups – meeting bi needs in various arenas (awareness raising, mental health issues, tackling biphobia)

Mental Health Issues – Ele
Awareness Raising – Grant
Tackling Biphobia – Jen

13:15–13:30
Feedback



Afternoon: (14:15–17:00) – Researching Bi Needs



14:15–15:15
Brief research presentations:

Visual Methods and Bi Identity – Helen Bowes–Catton
Bisexuality and Psychotherapy – Lyndsey Moon
Bisexual community events – Sophie Voss
Organisational Change, Resistance and Democracy: Lesbian, Gay, Bisexual and Transgender (LGBT) Equalities Initiatives in Local Government – Surya Monro

15:15–16:00
Break-out groups - trying out and discussing specific research

Using case studies for bi training – Rebecca Jones
Alternative research methods for studying Bisexuality – Helen Bowes–Catton
Researching Bi needs – Ron Fox

16:00–17:00
Feedback – where next with bi research?
Bi ReCon Invites
Bi ReCon invites contributions and expressions of interest from the following groups to take part in the first national Bi ReCon day:
Equality & diversity teams from relevant organisations (e.g. mental health charities, governmental & public bodies)
Representatives from LGBTQ organisations
Members of the bi community
Researchers on bisexual matters, particularly those of interest to organisations and policy makers
To find out more:
You can download a copy of the Bi ReCon information leaflet RTF/Word document).
Please contact Dr. Meg Barker, Department of Psychology, London South Bank University (email meg@megbarker.com).